Frequently Asked Questions — SB County Contract Negotiations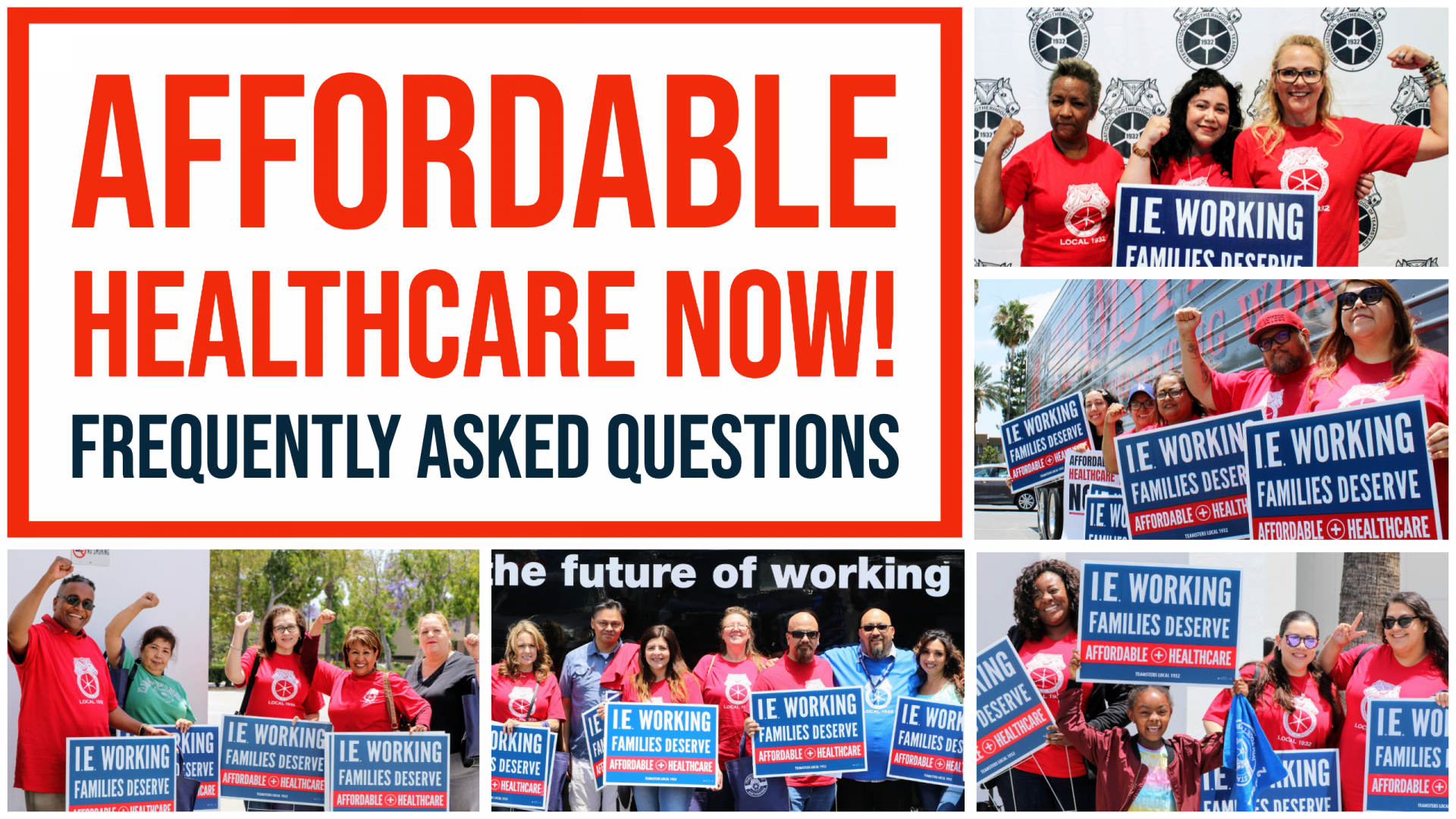 As our union works toward implementing the Teamster solutions for affordable healthcare at the County of San Bernardino, we realize members will have questions about the plan to win. Here are answers to potential questions that members might have:
NEGOTIATIONS UP UNTIL THIS POINT
What is the current status of negotiations?  As of June 22, the County and Teamsters Local 1932's bargaining team have reached tentative agreement on 75 items, including a wide range of contract improvements.
What is left to negotiate?  Currently, Teamsters Local 1932 is negotiating with the County on healthcare and some economic issues. This is the first time that healthcare for County employees will be discussed at the negotiating table in quite some time — certainly before Teamster affiliation for County employees in 2015. 
Why all the attention on healthcare?  Thousands of County Teamsters made it absolutely clear in bargaining surveys rolled out in the summer of 2018 that healthcare costs were the number one issue for themselves and their families. Take-home pay for County employees will not be secure until the high costs of healthcare for County employees are addressed. Over the past year, Teamsters Local 1932 has worked hard together with industry experts to analyze the County's method of administering employee healthcare and the union has settled on tried-and-true common-sense solutions to the crisis at hand. Enough is enough — not all County employees are lucky enough to lean on a spouse's healthcare options. All County employees deserve affordable healthcare now.
What happens after the current contract expires on July 31st?  Teamsters at the County of San Bernardino will continue to work under the terms of the current contract. Negotiations for a new contract will continue until a tentative agreement or impasse is reached.
When will members learn what is in the full tentative agreement and when will members vote whether to approve or reject it?  Once the County and Teamsters Local 1932 have agreed on all items, a meeting will be scheduled and widely publicized. 
Will Local 1932 members at the County of San Bernardino go on strike? Do we have the right to strike?  Public employees have the right to strike when contracts are expired. Striking is always a last resort and Local 1932 will not be reckless in its potential use. In any case, Local 1932 does not have the ability to call for a strike without a vote by the membership that authorizes it.
AFFORDABLE HEALTHCARE NOW — HOW?
Why has the County's system failed employees on healthcare?  The County utilizes a fully-insured model of employer-sponsored healthcare. Fully-insured is when a company pays a flat rate to an insurance company to cover all expenses. Small employers usually pick this plan because one person having a heart attack can bankrupt a small employer. The County is not a small employer — industry experts place them in the 4% of employers over 5,000 employees that utilize a fully-insured model of healthcare. This model has locked-in costs and is rife with overcharging ends up being passed on to members.
What is the Teamster solution to healthcare?  Teamsters Local 1932 is proposing that both parties set up an independently administered trust fund that will manage healthcare for employees. This trust fund can immediately lower healthcare costs for the average County worker and set up a framework for affordable retiree healthcare in the future, simply by being self-funded. Most large companies use this method because it is cheaper as long as the group insured does not experience out of the ordinary utilization of the services. 
Who will administer the proposed trust fund?  A third-party administrator of union health plans. As an example, Zenith provides pension and health administration services for almost 2 million families from over 45 offices across the US. These types of third party administrators are founded on making sure members can count on affordable care as well as a system of accountability with healthcare providers.  
How will a trust fund affect my choice of the insurance carrier and healthcare provider?  A transition will not affect your choice of insurance carriers or healthcare providers. Instead, due to more aggressive engagement by the trust fund's third-party administrator, you can count on the same plans and care at a lower cost. That is not currently happening under the County's operations. 
How much will members save on healthcare costs?  The self-funded Teamster solution being proposed immediately reduces taxes, administrative expenses, and profit charges that are ultimately passed on to members. Members are projected to save millions of dollars in the first year of implementation. Once the trust fund is up and running, costs can be further dragged down through a variety of strategies recommended by the trust fund administrator. 
How does this tie-in to retiree healthcare?  The fastest and most assured way that Teamsters can count on affordable healthcare coverage is through a trust fund. After an adequate reserve is established by the trust fund, the third-party administrators will explore expanded retiree coverage. This is not possible under the limitations of the County current flat-fee fully-funded model.
Optional Primary Care Clinics for Teamsters and their Families
Is Teamsters Local 1932 attempting to set up medical clinics? Why?  The self-funded model allows for flexibility in provider choice that is not present under the fully-insured model. In order to further bring down costs, once the trust fund is established, the Trust Fund will set up primary care clinics across the region in partnership with Teamsters Local 1932 as an option for members and their families. Members will be allowed to use these clinics regardless of their choice of the insurance carrier. These primary care clinics will eliminate copays and extend the time spent with a doctor from an average of 7 minutes to 30. When significant numbers of Teamsters use these clinics, the trust fund will be able to argue to insurance companies that costs should further decrease for all County Teamsters because many are choosing Teamster clinics for their primary care, instead of carrier-sponsored providers.
Who are these doctors?  The Trust Fund, in partnership with Teamsters Local 1932, will work with renowned healthcare trailblazers Transcend Onsite Care to find the best doctors for our members after rigorous analysis of our membership's needs. These doctors will be available to members who utilize Teamster clinics 24/7 and will work hand-in-hand with members to connect them with appropriate urgent care and specialists.
What if I don't want to use a Teamster clinic?  That's fine! Feel free to use your insurance carrier's providers.
---
Didn't get a chance to see the rollout of our plan for affordable healthcare at the June 22nd Teamster rally? Watch a recap here!