6/22: SB County Teamsters Pack Convention Center for Contract Rally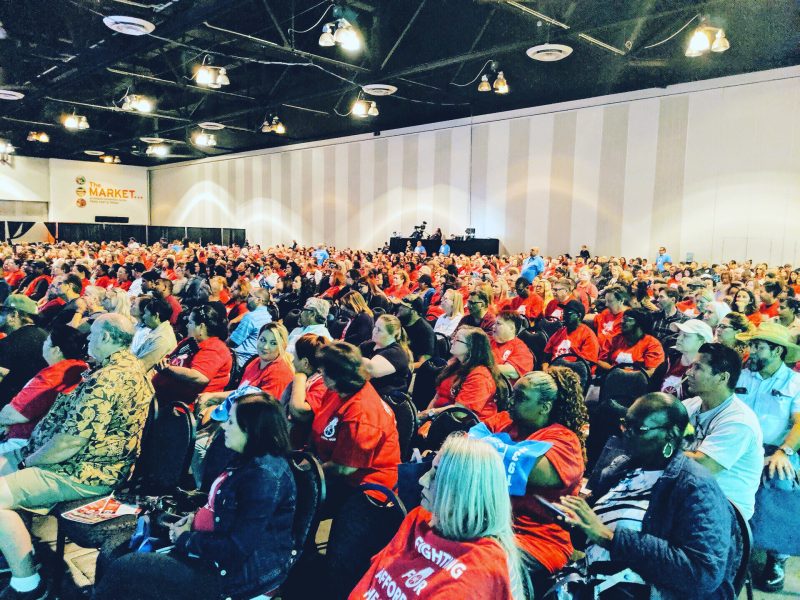 On June 22nd, thousands of Teamsters gathered at Ontario Convention Center for the San Bernardino County Contract Rally. Teamsters Local 1932, representing over 11,000 employees at the County of San Bernardino, has been negotiating for a new contract with the County since October 2018. Local 1932 called the meeting to update the membership on the state of negotiations.
Local 1932 Secretary-Treasurer Randy Korgan and President Kathleen Brennan led the day's program, with the County's unaffordable healthcare plans at the top of the agenda. A majority of the 7,000 bargaining surveys returned by members ahead of contract negotiations in the summer of 2018 listed crushing healthcare costs as their number one issue. Local 1932 is committed to fixing the problem.
"We are here to not just complain about it," Korgan said. "We're here to produce solutions to the problem. The agenda today has national experts on this subject that are going to lay out what we believe is a plan to move this subject in the right direction and get you into a position where you can afford your healthcare."
After a thorough search for the right partners and the right solutions, Local 1932 has begun work with Mercer Health & Benefits, the largest human resources consulting firm in the United States, Zenith American, the largest administrator of union health plans in the United States, and Transcend Onsite Care, a nationally renowned firm specializing in direct primary care. These three partners helped Local 1932 explain the specifics on the Teamster path to affordable healthcare at the County of San Bernardino:
A Teamster Trust Fund that is administered independently, will negotiate directly with insurance carriers, representing all Teamsters at the County of San Bernardino in a "self-funded" model. A third-party administrator selected by the union will battle costs on each claim. The union will negotiate employer contribution rates with the County.
A "self-funded" Teamster model immediately reduces taxes, administrative expenses, and profit charges. Members are projected to save millions in the first year of implementation.
 

The Trust fund will roll out primary care clinics that can eliminate copays and extend the time spent with a doctor from an average of 7 minutes to 30 minutes or more. Getting ahead of sickness at easy-to-use primary care facilities will further decrease overall costs in the long-term.
 

The County has not explored opportunities to reduce costs by evaluating the underlying charges passed from the County-owned Arrowhead Regional Medical Center toward their sponsored medical plans. The Trust Fund will begin this immediately.
Cost savings and operational and design flexibility granted by a Teamster Trust Fund "self-funded" model make retiree healthcare a reality soon.
These solutions will be presented at the negotiation table. Local 1932 also updated members on other issues that have been successfully negotiated at the bargaining table. Up until Saturday's rally, a total of 75 items have been tentatively agreed to by Local 1932 and the County, including: an improved Public Works differential, stronger meal and break periods, common-sense fixes to caseload management, an enhanced merit advancement system, refined language on classifications that will put more money in people's pockets, and first-time language that vastly improves disciplinary transparency. On the front of raises, equities, and differentials we have a very solid economic offer from the County, however, the economics proposed can't be resolved until the cost of healthcare is managed. Further details will be presented once negotiations have concluded. Right now, Local 1932 will take on the fight for affordable healthcare because members are adamant about it — enough is enough. 
"The reality is that when the cost of healthcare continues to increase and the system that the County currently has means that all increase is borne by the employee, then [all pay increases go] in one door and out the back and we need to deal with that before we resolve this contract," Korgan said.
In the aftermath of the Teamster action at the June 11th County Board of Supervisors meeting, which saw hundreds gathered for Local 1932's first public push for affordable healthcare, County leadership has been willing to listen to our solutions. Korgan stressed to those in attendance at the rally that we cannot stop coming together until our solutions are in place. "You've been Teamsters for four years now and it's been a Teamster staple for more than a hundred years that we prioritize healthcare, and that we take every action we can to force the employer to prioritize that subject for you too."
Teamsters in attendance, a sea of members in red t-shirts, filled out pledge cards announcing that they were ready to stand together to win. Reach out to your Teamster Business Agent or Steward at work to take part and ensure that your workplace is Teamster strong for affordable healthcare NOW. 
Stay connected to Teamsters1932.org for a video recap of the rally later this week.