Meet the Man Behind Teamster Woodcarvings: Ernest Mccalman
[DISPLAY_ULTIMATE_PLUS]
How did you start making woodcarvings for Local 1932 members?
I met [Teamsters Local 1932 staff member] Fred Lowe on a train heading to Union Square in Los Angeles. I had taken a piece out to Pasadena to sell to a lady who was interested — she said she no longer had the money to purchase the piece, so I was heading back home. Fred saw it and asked me about — he bought it right then and there! We've been friends ever since and then I started to make Teamster woodcarvings.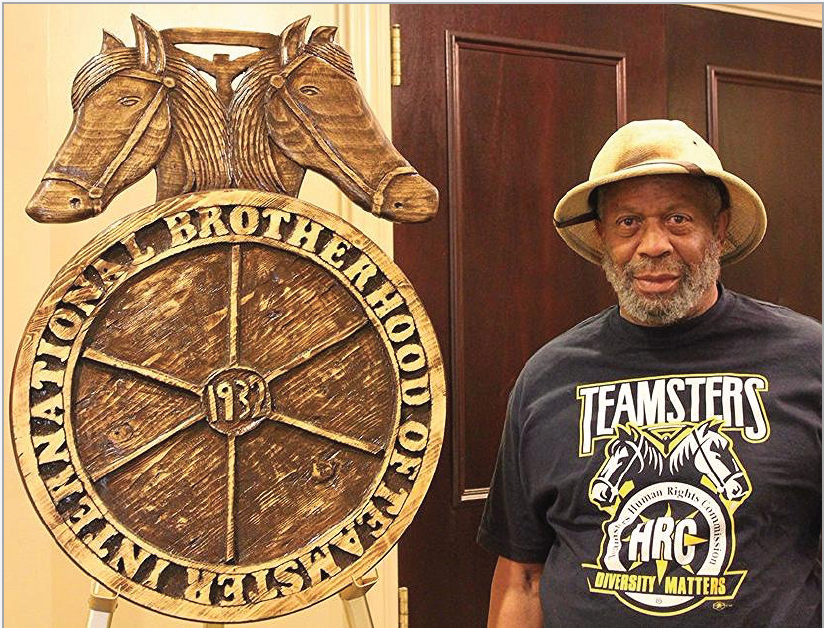 How long have you been woodcarving?
Since the 70s — I'm teaching myself and I still am! My brother was doing an eagle, but he didn't finish it after joining the Air Force. I was looking at it and I decided to start playing around with it — I like to work with my hands. By the time he got out of the Air Force, I had it finished!
Do you enjoy woodcarving?
Oh yeah, it's one of my favorite things to do. It's not about the money but that people like it and enjoy my work.
Which one of your pieces of work is your favorite?
The Last Supper. It takes me a while but I've done about three. I've got one left and I'm trying to sell it. I've also done a woodcarving depicting a jazz band that I really liked.
What have been some of the difficulties in doing the work?
Well, I'd say mainly getting it into my head that I can do it. I have to motivate myself and tell myself that I can do what I do without worry. I've learned to take my time and enjoy it — if I make mistakes, just start over again, no problem.
To view Ernest's past and present work, or even order a woodcarving for you or a loved one, check out his website at ErnestMccalman.blogspot.com or call for a price quote at 323.392.3287.