City of Rialto Mid-Managers Vote Unanimously To Be Part of Teamsters Local 1932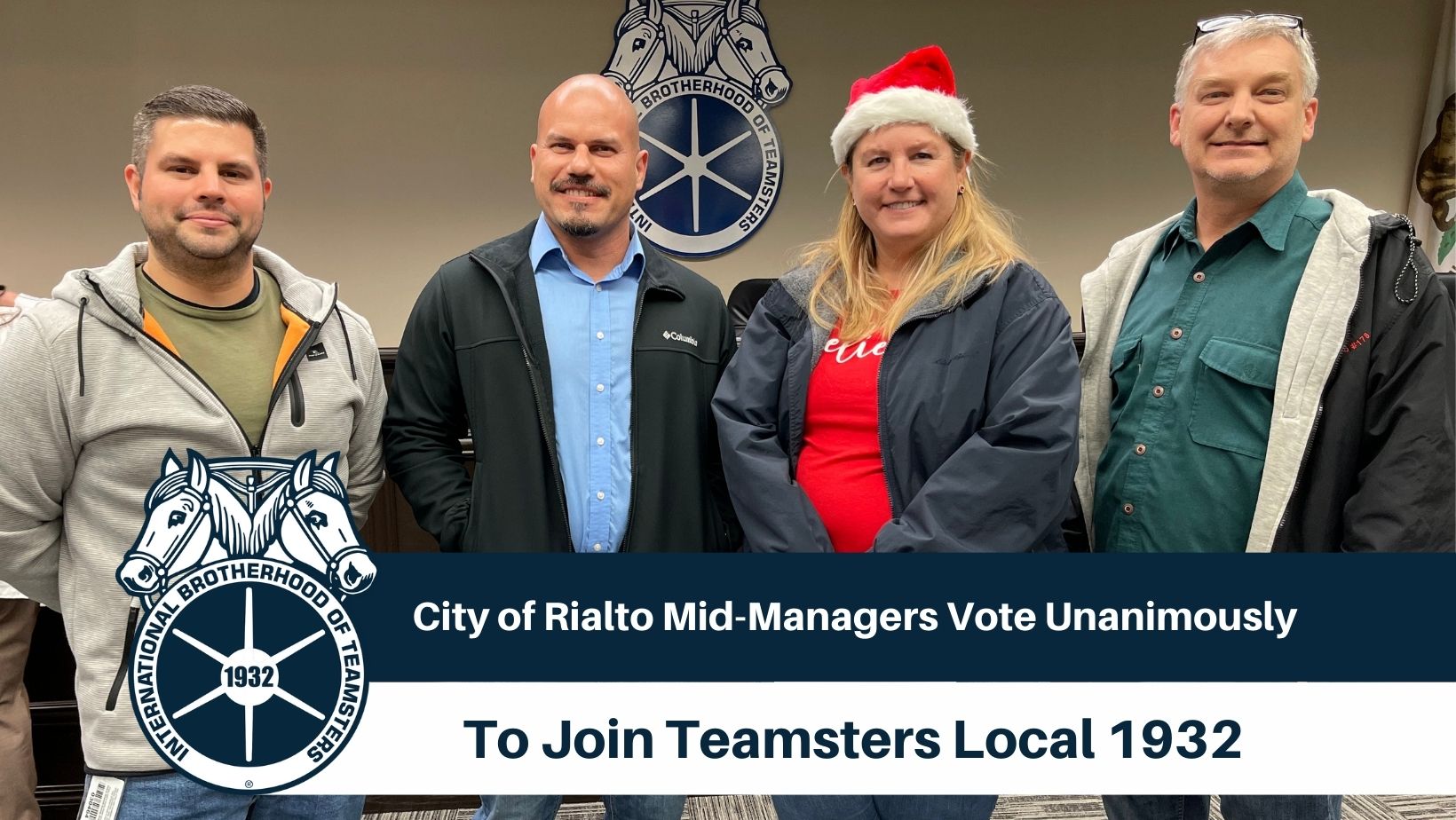 On December 8, 2022, City of Rialto employees in the Mid-Managers bargaining unit voted unanimously to be part of Teamsters Local 1932.  
"I'm super excited about this. I know the majority of our department have wanted to be Teamsters for a while now, and we were finally able to make it happen," said Kim Dame, an Administrative Analyst with the Community Development Department. 
The new Teamsters have had difficulties obtaining proper representation in the past, and dealing with a new Human Resources director ultimately motivated their decision to organize with Local 1932. 
"During our last negotiations we were told point blank that our next bargaining would be hostile. That's just one example that illustrates what the City's attitude towards its employees has been like without a strong union that was willing and able to fight back," said Dame, who has been with the City of Rialto for about two years.
Ultimately, the decision to organize with Teamsters Local 1932 came about without a second thought, as evidenced by the unanimous vote. Isaac Regaud, a volunteer organizer and rank-n-file member of Local 1932 who works for the County of San Bernardino, was crucial in bringing people together during the organizing campaign.
"I was able to relate to this group because my coworkers and I went through the same organizing process at the County in 2015, when our association affiliated with the Teamsters to form Local 1932," said Regaud, who serves proudly as a Teamster steward at the County's Transitional Assistance Department.
Thad Coffing, an Accounting Supervisor who has been employed with the City of Rialto for the past 17 years, stressed the importance of having solid representation in times like these. "Over the last several years, the support we've received has dramatically declined. We felt that in our current economic times and with the economic struggles we're facing as workers, that we really needed good and solid representation." 
The City of Rialto Mid-Managers join the nearly 14,000 other public employees represented by Teamsters Local 1932 at the County of San Bernardino and more than 20 cities across the Inland Empire.