Bear Valley Community Hospital Employees Unanimously Ratify Their First Union Contract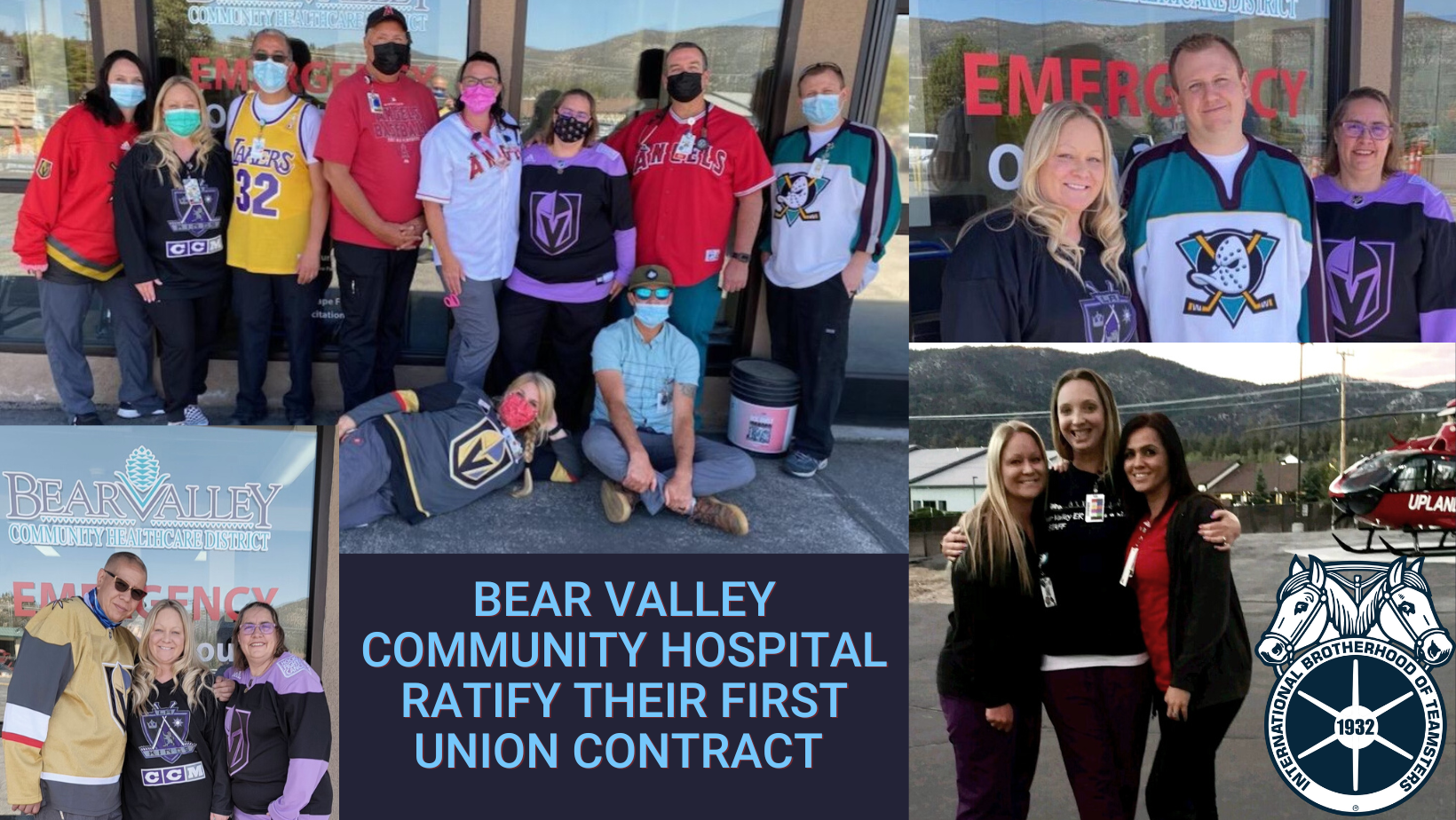 –
Big Bear Lake, CA – After a year and a half of organizing their union and negotiating with their employer, Bear Valley Community Hospital employees unanimously voted on July 7 to ratify their first union contract with Teamsters Local 1932, securing improved wages, benefits, and working conditions.
"This contract is life-changing," said Rebekah Romero, an ER Patient Access Representative who was active in the organizing effort. "We can breathe a sigh of relief because now we have security for our families, who have sacrificed along with us while we've served the community through the whirlwind of the pandemic."
With a first-time union contract, Bear Valley Community Hospital employees working in the Emergency Room, Medical Imaging, Surgery, Respiratory, and Laboratory will gain the security they need to thrive in their work and better serve the community, knowing that their labor is essential to providing its patients with the best medical care. 
"Through their unity and persistence, these workers secured an immediate and significant wage increase, family healthcare, as well as classification and compensation studies which will allow us to compare our newest members' wages and benefits to other hospitals and negotiate fair compensation for them too," said Pete Sierra, Teamsters Local 1932 Business Agent who chaired negotiations for this first contract. 
Workers at Bear Valley Community Hospital have served thousands of residents in the City of Big Bear Lake and surrounding communities for more than 40 years – providing easy-access emergency medical and acute care across the community. Their work has been vital since the onset of the COVID-19 pandemic.
"Hospital workers have been the tip of the spear in responding to the pandemic we've faced the last two and a half years," said Randy Korgan, Secretary-Treasurer of Teamsters Local 1932. "These workers deserve the security of a union contract and to be fairly compensated. I commend Bear Valley Community Hospital for working with the newest members of Local 1932 to come to a mutually beneficial agreement that provides a foundation to work from going forward."
With over 14,000 members, Teamsters Local 1932 aims to advance the membership's social, economic, and educational welfare; promote professional working relationships and fair play between members and management; positively contribute to the communities they serve and live in.