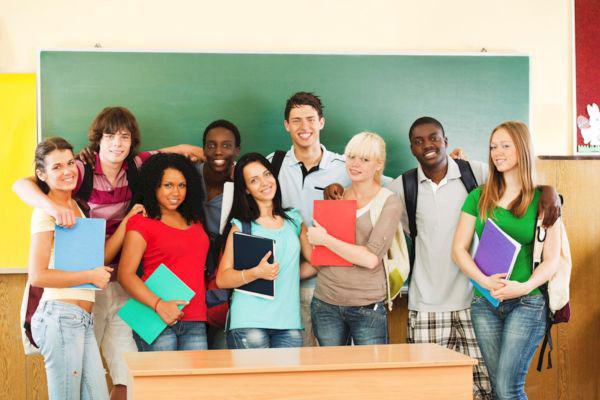 James R. Hoffa Memorial Scholarship Fund
The James R. Hoffa Memorial Scholarship Fund is now accepting applications for scholarship awards. The deadline for receipt of completed materials is March 31, 2017. Materials will be sent to every local union in the US and Canada, but if you would like to download the materials, please see the link below.
Scholarship applicants compete in one of the five geographic regions where the Teamster Member Relation's Teamsters Union affiliate is located. One category of awards totals $10,000 each. These four-year scholarships are disbursed at the rate of $2,500 per year and are renewable annually.
Other awards are one-time $1,000 grants. These scholarships are disbursed to the college or university at the beginning of the recipient's freshman year. Eligibility requirements and application procedures are the same for all awards.
Recipients are selected by an impartial committee of university admissions and financial aid directors based on academic achievement, SAT/ACT scores, character, potential and financial need. We consider all applicants without regard to race, religion, gender, disability, or any other legally protected status.
APPLICATIONS MUST BE SUBMITTED NO LATER THAN MARCH 31, 2017
---
Teamsters Local 1932 Scholarship
High school seniors entering accredited two or four-year colleges in 2016 are eligible!
Members must be in good standing with Teamsters Local 1932 for at least one year
Dependents must be younger than 23 years of age
Dependent and Member applicants must have proof of acceptance to a College or University
Copies of transcripts will be accepted
APPLICATIONS MUST BE SUBMITTED ON OR BEFORE TBD
---
Cheryl Johnson International Teamsters Women's Caucus Scholarship
The International Teamsters Women's Caucus (ITWC) awards two (2) scholarships annually to deserving high school seniors in the U.S., Canada, or Puerto Rico based on academics.
Seniors must be the son or daughter of a retired Teamster member or an active member who has at least (12) months of consecutive membership in good standing in the Teamsters Union on application date.
Be in the last year of high school or GED program (may not apply is already graduated from high school)
Plan to attend an accredited college, university, trade or business school
APPLICATION MUST BE SUBMITTED ON OR BEFORE MONDAY, MAY 1, 2017
---
Teamsters Joint Council 42 Scholarship
Teamsters Joint Council 42 offers a number of financial awards for children of active Teamsters Union members who belong to one of the following Teamster Local Unions: 14, 63, 166, 186, 396, 399, 481, 495, 542, 572, 630, 631, 683, 848, 896, 911, 952, 986, 996, 1932, 2010 and District Council 2.
To apply, fill out this form completely and mail to arrive no later than May 1, 2017 to:
Teamsters Joint Council 42
981 Corporate Center Drive, Suite 200
Pomona, CA 91768
Telephone: (626) 974-4212
APPLICATIONS MUST BE SUBMITTED NO LATER THAN MAY 1, 2017
---
Teamsters Hispanic Caucus Scholarship
Attention Teamsters Local 1932 Members with High School Seniors Graduating this Year!
If you are a Local 1932 Member who is active and current with your dues and have a daughter/son that is attending or has been accepted by an accredited University, College, or Trade School then the California Teamsters Hispanic Caucus has a scholarship opportunity for your child.
Applicants Must Provide:
Proof of acceptance to their selected University, College, or Trade School
Provide a wallet size photo
Provide your official High School Transcripts through the 2014 Fall Semester
Secretary-Treasurer Randy Korgan must sign the bottom of the application
APPLICATION MUST BE SUBMITTED NO LATER THAN MONDAY, MAY 31ST, 2017
---
Teamsters Essay Contest
We want to announce the start of the application period for the annual Essay Contest. Winners of the Essay Contest will receive a one-time grant of $1,000. Winners will be chosen from each of the five regions of the union (Eastern, Southern, Central, Western and Canada).
To qualify, you must be the son, daughter or financial dependent of an eligible Teamster member, hereafter also referred to as "Teamster Member Relation"; be enrolled full-time in an undergraduate college, university or community college program, or a technical or vocational program; be 23 years old or younger by June 15, 2016.
A supply of printed copies of the Essay Contest application will be sent to local unions in the next two weeks along with the Essay Contest poster. We have also attached the files as PDFs to this memorandum for your convenience.
The topic of this year's Essay Contest is: "What Has Living In A Teamster Household Meant To Me And My Siblings?"
All entries must be received the Scholarship Office by no later than June 15, 2016. Click here to access the Essay Application
Thank you.
APPLICATIONS MUST BE SUBMITTED NO LATER THAN TBD